< back
Salt Water Taffy and Fudge is still the perfect gift for mom
Pick Your Own Flavors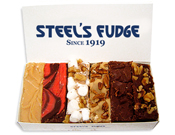 Variety Box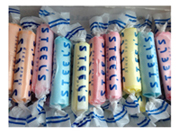 Pick Your Own Flavors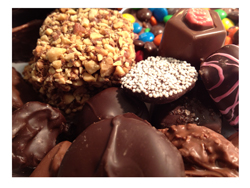 It is no secret that women love chocolate, taffy and Steel's boardwalk Fudge. While candy and confectionery delights for Mothers Day are always at the top of mom's list, just as often they get overlooked. You realize by now your mom will SAY she loves anything you give her for Mom's Special Day. However, this is the year you need to send her something that will not get tucked away in her closet with all her baskets of lotions, candles and gift certificates (that your siblings got her).
For this Mothers Day, her favorite child will surely go to www.steelsfudge.com for that Moms Day gift that never sits around long. Steel's Fudge offers an incredible variety of her favorite boardwalk candies, as well as the ultimate Mother's Day present: creamy and mouth watering fudge.
AND, be sure to order some Salt Water Taffy for yourself, as a reward for being such a great son/daughter!
To think you had been putting so much pressure on yourself to find that special gift idea for Mother's Day, when the answer all along was right in your search engine. You may want to save our website (www.steelsfudge.com) as a favorite, since Steel's Fudge and boardwalk candies are always great gift for anyone, anytime.

Steel's Fudge | 2719 Boardwalk | Atlantic City, NJ 08401 |
(609) 345-4051